Featured Sermon:
"God's Messenger" Dr. David Lombard, Elder Co-Chair
Upcoming Pulpit Guests: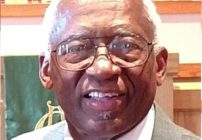 Reverend Dr. Johnson is a retired Disciples Minister and Pastor Emeritus of Summit Christian Churchin Trotwood, Ohio. Rev. Johnson currently serves as the  Regional Elder for district 8, serving the Christian Church In Ohio in greater Dayton, and Middletown.