Welcome To First Christian Church
Mission/Vision Statement: We are the Christian Church (Disciples of Christ)
where ALL are welcome. We are faith based, following the teachings of Jesus Christ, and carrying the word to others by serving our community and beyond.
Pulpit Guests

Reverend John Dick is a retired ordained minister in the American Baptist Church. John is a resident of Middletown. John has served American Baptist Congregations in Midland, MI; Haddonfield, NJ; Wyoming, OH; Middletown, OH and Worcester, MA.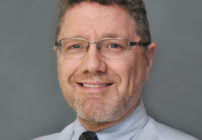 Reverend Ed Bastien Serves as the Pastoral Care Manager at Atrium Medical Center. Rev. Bastien holds a Masters of Divinity in Theology and Religious Vocations from Asbury Theological Seminary. Ed has experience in Chaplaincy from both The Hospital as well as Hospice settings.
Wendy Taylor is a new church planter for the Christian Church in Ohio and the Pastor of The Delaware Project. The Delaware Project is a new church plant supported by the Christian Church in Ohio. They call themselves a "project" because they are trying new things and thinking outside of the box, discovering what church can […]