WELCOME TO FIRST CHRISTIAN CHURCH!
Mission/Vision Statement:
We are the Christian Church (Disciples of Christ)

where ALL are welcome. We are faith based, following the teachings of Jesus Christ,
and carrying the word to others by serving our community and beyond.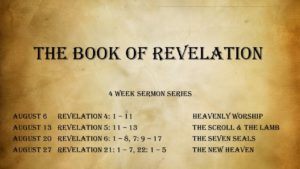 August Sermon Series
"The Book of Revelation"
August 6th   Revelation 4:1-11  "Heavenly Worship"
August 13th     Revelation 5: 11-13       "The Scroll & The Lamb"
August 20th       Revelation 6: 1-8, 7:9-17      "The Seven Seals"
August 27th       Revelation 21: 1-7, 22: 1-5           "The New Heaven"
Join Us to hear Pastor Tracy give her message, Worship begins at 10:30 A.M.