Events
!!!!MOVED TO CHURCH DUE TO WEATHER!!!!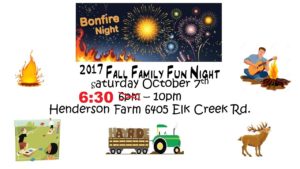 2017 Fall Family Fun Night
Saturday October 7th, 2017
6:30p.m. – 10:00p.m.
Location: Henderson Family Farm
6405 Elk Creek Rd Middletown, Ohio
45042
Join your church family for a fun evening at the Henderson Family Farm.
There will be:Bonfire, Hayride, Games, Fellowship, Fun
don't forget to bring a Lawnchair, and dress for the weather!
Join Us at First Christian Church for a pancake breakfast to benefit the Hopewell District of the Dan Beard Council, Boy Scouts of America.
Saturday, September 16th, 2017
8:00 A.M. – 11:00 A.M.
Tickets are $6.00
The Hopewell District Covers Warren County, City of Middletown, City of Monroe, and Madison Township.
To learn more about the Hopewell District of the Dan Beard Council please visit: www.DanBeard.org/Hopewell/
Celebration of Ministry
Join us Sunday April 30th for a Celebration of the Ministry
of Rev. Nik Donges as Interim Pastor of First Christian Church.
Nik began his ministry in Agust of 2015 and will conclude his ministry with us after worship on April 30th. We will thank him for his ministry and guidance through our interim period.
A reception will be held in his honor following worship.
Join us for several different services during Holy week.
Palm Sunday—the Bearing of the Palms, Sunday April 9th, 10:30 a.m.
Maundy Thursday Worship, Thursday April 13th, 7:00 p.m.
Easter, Sunday April 16th, 
Sunrise worship, 8:00 a.m.
Continental Breakfast, 8:30 a.m.
Egg Hunt, 9:00 a.m.
Easter worship, 10:30 a.m.
Lifeline Screening is coming to First Christian Church on May 1st.
Reservations will be needed. More information coming soon.
For more information on lifeline Screening Visit: http://www.lifelinescreening.com/
Saturday April 1st at 7:00 p.m.
Razor's Edge will have a performance of
Guys and Vs. Dolls
Tickets $12 & Children 12 & Under Free
For Information or Tickets Call: (513) 424-2096 or (937) 572-2347
Call for Group Rates
Chartered and in continuous existence since 1946, the Middletown (Razor's Edge) Chapter of the Barbershop HarmonySociety is a diverse group of men devoted to sharing the "good vibes" that are unique to unaccompanied music sung in the Barbershop Style.  Our Razor's Edge Chorus and chapter quartets perform year-round, spreading goodwill through the sharing of our vocal talents.
Their charitable projects include sponsorships to Buckeye Boy's state and Harmony Foundation, which funds music education of all types.  Each year, we sponsor two local students to the Greater Cincinnati Harmony Festival, a student choral workshop.  We've provided our singing talents for many worthy causes in and around Middletown including United Way, Butler County MRDD, Dream Works, MiddFest, All-American Weekend, and Abilities Fir
st.