Outreach
Join Us at First Christian Church for a pancake breakfast to benefit the Hopewell District of the Dan Beard Council, Boy Scouts of America.
Saturday, September 16th, 2017
8:00 A.M. – 11:00 A.M.
Tickets are $6.00
The Hopewell District Covers Warren County, City of Middletown, City of Monroe, and Madison Township.
To learn more about the Hopewell District of the Dan Beard Council please visit: www.DanBeard.org/Hopewell/
One Market & Eatery is NOW OPEN!
1316 Vail Ave.
Middletown, Ohio
45042
One Market & Eatery was formed with a group of people that saw a need and an opportunity.  The food insecurity rate is need and the opportunity are centered around hunger.  Hunger for food and hunger for connectedness.  The first type of hunger is easily measured.  The food insecurity rate in Middletown is a staggering 32%.  ​

The community is looking for a new way to give and we are providing that for them.  We are now serving 2 purposes. We are serving a community that is in desperate need of quality food products and we are an avenue for people to give back to the community in a different way. We use two approaches at our building on Central Ave next to the old studio theater.  One approach is the food truck, which is getting quality food to people and the second approach is the Micro-Market that will be located inside our property and will give the community access to healthy fresh produce and other fresh food options using the "pay it forward" model.

We have strived to get food to the community via different avenues and have succeeded on a small scale.  We are ready to expand our efforts and move to a bigger and better system.  By incorporating the "Pay it forward" model and using grade B produce and moving into a different property we will be able to reach more people and help rescue some of millions of pounds of produce that is wasted every year which in turn helps the environment.

The combination of the Food Truck Pod Concept and the micro-market in the same location will allow us to become a destination and product uniquely known to the downtown Middletown area. 
Hours of Operation
Monday, Wednesday and Friday
10:00a.m. – 2:00p.m.
First Fridays
5:00p.m. – 9:00p.m
For more info visit: http://www.omemiddletown.org/home.html 
Our Outreach Committee is again asking for donations of food, paper products, personal items and cleaning supplies. We will be donating these to the Salvation Army each month for distribution. For the month of APRIL, we are requesting canned vegetables (green beans and corn are the two that they run out of first), canned soups, boxed dinners (for example macaroni and cheese, spaghetti, etc.).
They distribute 15,000 pounds per month and our donations will be muchappreciated!
Watch the newsletter each month to see what we will be collecting the next month.
As in the past, deposit your donations in the blue tub in the narthex.
Lifeline Screening is coming to First Christian Church on May 1st.
Reservations will be needed. More information coming soon.
For more information on lifeline Screening Visit: http://www.lifelinescreening.com/
Saturday April 1st at 7:00 p.m.
Razor's Edge will have a performance of
Guys and Vs. Dolls
Tickets $12 & Children 12 & Under Free
For Information or Tickets Call: (513) 424-2096 or (937) 572-2347
Call for Group Rates
Chartered and in continuous existence since 1946, the Middletown (Razor's Edge) Chapter of the Barbershop HarmonySociety is a diverse group of men devoted to sharing the "good vibes" that are unique to unaccompanied music sung in the Barbershop Style.  Our Razor's Edge Chorus and chapter quartets perform year-round, spreading goodwill through the sharing of our vocal talents.
Their charitable projects include sponsorships to Buckeye Boy's state and Harmony Foundation, which funds music education of all types.  Each year, we sponsor two local students to the Greater Cincinnati Harmony Festival, a student choral workshop.  We've provided our singing talents for many worthy causes in and around Middletown including United Way, Butler County MRDD, Dream Works, MiddFest, All-American Weekend, and Abilities Fir
st.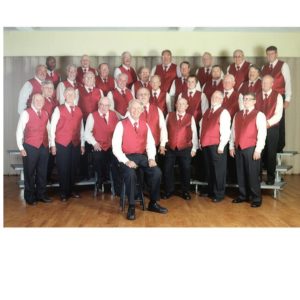 The Outreach Team would like to thank everyone who helped our adopted families this holiday season. Turkeys and all the trimmings were provided in November. During Christmas week, we were able to distribute boxes including hams and many other food items. Much thought was given to the beautiful gifts which were donated by our congregation. At this busy time of the year, you gave more than the gifts we wrapped. You sent a message of love and hope to many who were really in need of a blessing. Our hat and mitten tree was fully decorated and will help keep many children warm in the weeks ahead.
Thank you!
Once again our congregation is showing the true spirit of
Christmas through their generosity and support of Outreach
programs. The Hat and Mitten Tree is being filled with colorful
gloves and hats for school children. Many new toys and clothing
items have been donated for Santa to provide to children in
families we've adopted this holiday season. Food items have
overflowed our giving baskets and will grace the dinner tables
of six families on Christmas Day.