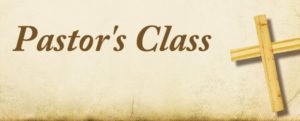 Pastor Tracy will be starting a Pastor's
class after the first of the year for the
youth. This is for youth who have been
baptized but have not done Pastor's
class and for youth who are considering
baptism. They will be meeting every
other Sunday beginning 1/14/18:
1/14/18, 1/28/18, 2/11/18, 2/25/18,
3/11/18 and 3/25/18. They will meet at
9:30 am during the Sunday school hour
before church. Elder Martin Schaefer
will co-teach the class with Pastor
Tracy. If you have not already talked to
her about your youth participating in
the class, please do so ASAP. As Easter
approaches, she will have more details
about baptisms for those who choose
to be baptized after the class.
Please pray over the coming months
for the following who will be
participating in Pastor's class: Cameron
Fowler, Aiden McMonigle, Owen Lyons,
Nick Otis, Angel Dearth, Travis
Hendricks and Riley McMonigle. These
youth, Martin and Pastor Tracy need
your prayers through these classes. It
is an important time for the youth to
learn and prepare for a new chapter in
their faith story.